Results › Day 2 › 17.11.2018
| # | | PILOT | CN | RN | GLIDER | DISTANCE | TIME | SPEED | PEN | POINTS |
| --- | --- | --- | --- | --- | --- | --- | --- | --- | --- | --- |
| 1 | | Golden Eagle | GE7 | EAGLE | DuoDiscus | 290.53 km | 01:59:20 | 146.1 km/h | 0 | 596 |
| 2 | | Jan Michalek | Y77 | OK-2802 | DuoDiscus | 290.53 km | 02:00:34 | 144.6 km/h | 0 | 587 |
| 3 | | Pawel Lis | PLP | SP-3679 | DuoDiscus | 290.53 km | 02:02:45 | 142 km/h | 0 | 571 |
| 4 | | Martin Baran | MOV | OK-2471 | DuoDiscus | 290.53 km | 02:03:30 | 141.1 km/h | 0 | 565 |
| 5 | | Erik Praznovsky | EP | OM-ERYC | DuoDiscus | 290.53 km | 02:03:57 | 140.6 km/h | 0 | 562 |
| 6 | | Witold Rozak | WRW | SP-2323 | DuoDiscus | 290.53 km | 02:04:53 | 139.6 km/h | 0 | 556 |
| 7 | | Alexander Burkhardt | BA | D-7010 | DuoDiscus | 290.53 km | 02:06:12 | 138.1 km/h | 0 | 547 |
| 8 | | Mihaly Knausz | KMI | HA-5005 | DuoDiscus | 290.53 km | 02:07:09 | 137.1 km/h | 0 | 541 |
| 9 | | Piotr Woryna | WR | SP-3665 | DuoDiscus | 290.53 km | 02:07:34 | 136.6 km/h | 0 | 538 |
| 10 | | Aleksey Chernov | AV7 | AIRMAN | DuoDiscus | 290.53 km | 02:08:57 | 135.2 km/h | 0 | 529 |
| 11 | | Erwin deBruin | EDB | PH-1969 | DuoDiscus | 290.53 km | 02:09:05 | 135 km/h | 0 | 528 |
| 12 | | Sean Churchill | S19 | G-SAMG | DuoDiscus | 290.53 km | 02:09:15 | 134.9 km/h | 0 | 527 |
| 13 | | Radek Mica | RUM | OK-5417 | DuoDiscus | 290.53 km | 02:09:52 | 134.2 km/h | 0 | 523 |
| 14 | | Adam Gorski | AGO | SP-1962 | DuoDiscus | 290.53 km | 02:09:55 | 134.2 km/h | 0 | 522 |
| 15 | | Uwe Melzer | UWE | FUNFLY | DuoDiscus | 290.53 km | 02:10:03 | 134 km/h | 0 | 522 |
| 16 | | Gen Iv | 244 | RU115 | DuoDiscus | 290.53 km | 02:10:55 | 133.1 km/h | 0 | 516 |
| 17 | | Alex Holswilder | AEX | G-NOOB | DuoDiscus | 290.53 km | 02:12:07 | 131.9 km/h | 0 | 509 |
| 18 | | Wlodzimierz Kowalski | DB9 | SP-2964 | DuoDiscus | 290.53 km | 02:12:38 | 131.4 km/h | 0 | 505 |
| 19 | | Arne-Martin Guettler | AM | LN-GOD | DuoDiscus | 290.53 km | 02:12:59 | 131.1 km/h | 0 | 503 |
| 20 | | Olexander Novikov | AVN | UR-BNJA | DuoDiscus | 290.53 km | 02:13:18 | 130.8 km/h | 0 | 501 |
| 21 | | Tomas Pyx | SOL | OK-1982 | DuoDiscus | 290.53 km | 02:13:35 | 130.5 km/h | 0 | 500 |
| 22 | | Piotr Raczynski | PIT | SP-2901 | DuoDiscus | 290.53 km | 02:13:44 | 130.4 km/h | 0 | 499 |
| 23 | | Horst Jahnke | DHJ | D-2056 | DuoDiscus | 290.53 km | 02:14:23 | 129.7 km/h | 0 | 495 |
| 24 | | Janusz Trzeciak | T | SP-3777 | DuoDiscus | 290.53 km | 02:14:37 | 129.5 km/h | 0 | 493 |
| 25 | | Tomas Ondrusek | IGC | D-2644 | DuoDiscus | 290.53 km | 02:15:40 | 128.5 km/h | 0 | 487 |
| 26 | | T Broty | TB | OK-0516 | DuoDiscus | 290.53 km | 02:16:34 | 127.6 km/h | 0 | 482 |
| 27 | | Zbyszek Tkocz | ZBY | ZBYCH | DuoDiscus | 290.53 km | 02:16:47 | 127.4 km/h | 0 | 481 |
| 28 | | Marek Baran | BMA | SP-3344 | DuoDiscus | 290.53 km | 02:16:56 | 127.3 km/h | 0 | 480 |
| 29 | | V Sierra | VG1 | EU-HIGH | DuoDiscus | 290.53 km | 02:17:03 | 127.2 km/h | 0 | 479 |
| 30 | | Eman Sadik | EMA | OK-1940 | DuoDiscus | 290.53 km | 02:18:54 | 125.5 km/h | 0 | 469 |
| 31 | | Jiri Adam | ADX | OK-0024 | DuoDiscus | 290.53 km | 02:19:24 | 125.1 km/h | 0 | 466 |
| 32 | | Jiri Holub | JHO | OK-4408 | DuoDiscus | 290.53 km | 02:19:37 | 124.8 km/h | 0 | 465 |
| 33 | | Reinhard May | RM | ENZO | DuoDiscus | 290.53 km | 02:21:51 | 122.9 km/h | 0 | 453 |
| 34 | | Hans Nyc | JN | OK-6200 | DuoDiscus | 290.53 km | 02:21:54 | 122.8 km/h | 0 | 452 |
| 35 | | Michal Novak | MHB | OK-6446 | DuoDiscus | 290.53 km | 02:22:01 | 122.7 km/h | 0 | 452 |
| 36 | | Mangirdas Juodinis | 1MJ | LY-GMJ | DuoDiscus | 290.53 km | 02:22:57 | 121.9 km/h | 0 | 447 |
| 37 | | Martin Semrad | MSE | OK-DAR | DuoDiscus | 290.53 km | 02:23:54 | 121.1 km/h | 0 | 442 |
| 38 | | Jan Svetlik | SVE | ARADAC | DuoDiscus | 290.53 km | 02:24:03 | 121 km/h | 0 | 441 |
| 39 | | Josef Spirik | S50 | SPIRA | DuoDiscus | 290.53 km | 02:26:46 | 118.8 km/h | 0 | 427 |
| 40 | | Milos Kubicek | KUB | OK-4808 | DuoDiscus | 290.53 km | 02:28:59 | 117 km/h | 0 | 416 |
| 41 | | Rudolf Kalousek | R1K | OK-7777 | DuoDiscus | 290.53 km | 02:29:33 | 116.6 km/h | 0 | 413 |
| 42 | | Lukas Zemek | VY | OK-3162 | DuoDiscus | 290.53 km | 02:34:48 | 112.6 km/h | 0 | 389 |
| 43 | | Andrew Teclaw | AT | SP-3621 | DuoDiscus | 290.53 km | 02:35:54 | 111.8 km/h | 0 | 384 |
| 44 | | Milos Koch | MK | OK-1823 | DuoDiscus | 290.53 km | 02:39:19 | 109.4 km/h | 0 | 369 |
| 45 | | Miro Kucera | MK7 | OM-2507 | DuoDiscus | 290.53 km | 02:49:49 | 102.6 km/h | 0 | 327 |
| 46 | | Evgeniy Burmistrov | BES | RA-0403 | DuoDiscus | 290.53 km | 02:58:35 | 97.6 km/h | 0 | 296 |
| 47 | | Don Sebastian | HP1 | N5BD | DuoDiscus | 290.54 km | 03:16:03 | 88.9 km/h | 0 | 295 |
| 48 | | Rogerio Coutinho | ROC | EU-HIGH | DuoDiscus | 290.53 km | 03:40:04 | 79.2 km/h | 2 | 293 |
| 49 | | Samuel Rybar | SR | OM-SAM1 | DuoDiscus | 33.43 km | | | 0 | 34 |
| 50 | | Evgeniy Fomin | EIF | RUS | DuoDiscus | 19.25 km | | | 0 | 20 |
| 51 | | Marek Loukota | LA | OK-1272 | DuoDiscus | 32 km | | | 0 | 0 |
| 52 | | Robbie Hilltop | T2 | RH2 | DuoDiscus | 229.9 km | | | 0 | 0 |
| 53 | | L Dado | LD | OM-6519 | DuoDiscus | 179.4 km | | | 0 | 0 |
| 54 | | Jiri EHRENBERGER | PJE | OK-6417 | DuoDiscus | 109.5 km | | | 0 | 0 |
| 55 | | Robert Gaertner | RG | D-3743 | DuoDiscus | 60.16 km | | | 0 | 0 |
| 56 | | Helmut Kuenne | F9 | D-2318 | DuoDiscus | 46.57 km | | | 0 | 0 |
| 57 | | Gvidas Sabeckis | GGG | LY-GGG | DuoDiscus | 46.2 km | | | 0 | 0 |
| 58 | | Egon Jorgensen | X5 | OY-XKP | DuoDiscus | 42.4 km | | | 0 | 0 |
| 59 | | Petr Vosahlo | 117 | 7117 | DuoDiscus | 34.2 km | | | 0 | 0 |
| 60 | | Aleksey Grishin | 065 | AC-115 | DuoDiscus | 33.8 km | | | 0 | 0 |
| 61 | | Jiri Nemecek | N31 | OK-6431 | DuoDiscus | 0.2 km | | | 0 | 0 |
Briefing › Day 2 › 17.11.2018 › 20:00 CET › Saturday
Server:DuoDiscusCup 2018
Password:
Date:17.11.2018
Time:20:00 CET (19:00 UTC)
Join time:30 min.
---
Landscape:Slovenia2 [1.0]
Plane class:Two Seater Class
Task type:Racing Task
Race-in time:1 min.
Time window:120 min.
Start time:12:30:00
Condor date:30.07.2018
Start altitude:max. 1500 m QNH
Wind direction:235°
---
TakeOff:CELJE
Start:CELJE
1. TP:BLEJSKA CERKEV
2. TP:BLEIBERG KREUTH
3. TP:LIBELICE CHURCH
4. TP:POLZELA
Finish:CELJE
Distance:290 km
---
 Download XCSoar task (TSK file)
 Download Flightplan (FPL file)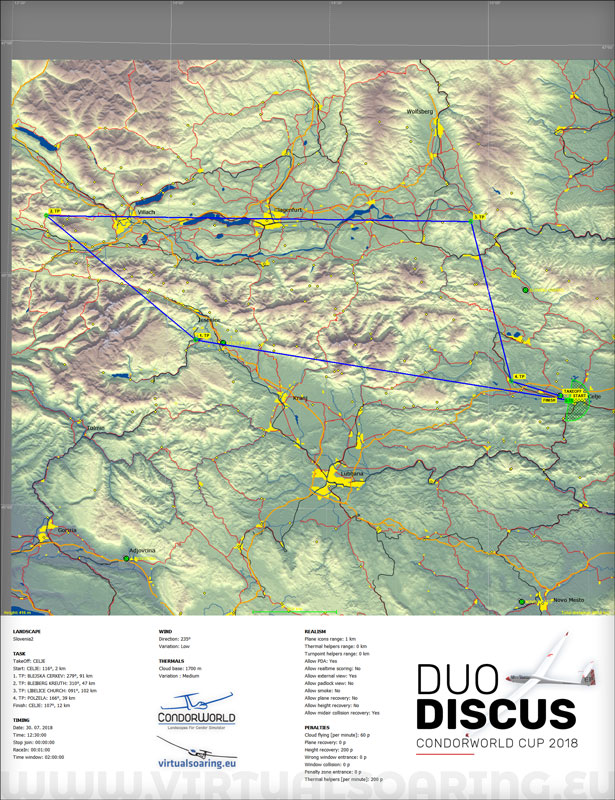 ---
Cloudflying not allowed! Circeling in the direction of climb is determined by the first glider in thermal. If you have doubts about the circeling direction, ask in the chat. Attention: if some penalty zones (CTR/TMA) are active, please watch your PDA all the time! Please FLY SAFE and for fun, good luck to all pilots.